A few weeks back, I posted a shot of a vintage-inspired sign I made for my aunt and I got so many emails about it, I thought a post was in order! This was so much quicker and easier than I expected, which truly is ideal for someone with a toddler who wants to do everything Momma is doing, so if you're considering making one, I highly recommend (mostly because you can get it done in less than two nap times!)
Here is what you'll need:
-Plywood (I bought a piece of white pine from Lowe's that was 1.5 inches thick and 10 inches wide and had them cut it to five feet).
-Black latex paint
-Tracing paper and a sharp pencil
-White latex paint
-100 grit sand paper
First things first, I beat the crap out of the wood with anything I could quickly find – a hammer, a chisel (for the edges and corners), a flathead screwdriver and a wire with extra large bolts that I keep handy for distressing wood.
Next, I slapped on some black paint. I mixed a little water in with it so it wouldn't be too thick and also so it would be easier to sand down and look "distressed" at the end. I applied two coats, letting each coat dry in between.
I used Word for my letters; nothing fancy, just Times New Roman in 100 size font. I held tracing paper up to my computer screen, lightly tracing the letters and then, using a sharp pencil, laid the paper on top of my sign and traced again, leaving a pencil mark on the wood. I used the stiffest, skinniest paint brush I could find (which happened to be one of the cheapos in a paint set of Lydia's!) for the outline of the letters and then filled it in with a thicker brush. I did three light coats of white paint, again letting each coat dry in between and then finally sanding the whole thing – letters and all – rubbing off the paint on the edges and scraping some off the letters, until I was satisfied.
Here is a closeup of how it looked once I was done:
Easy peasy! Happy Hump Day!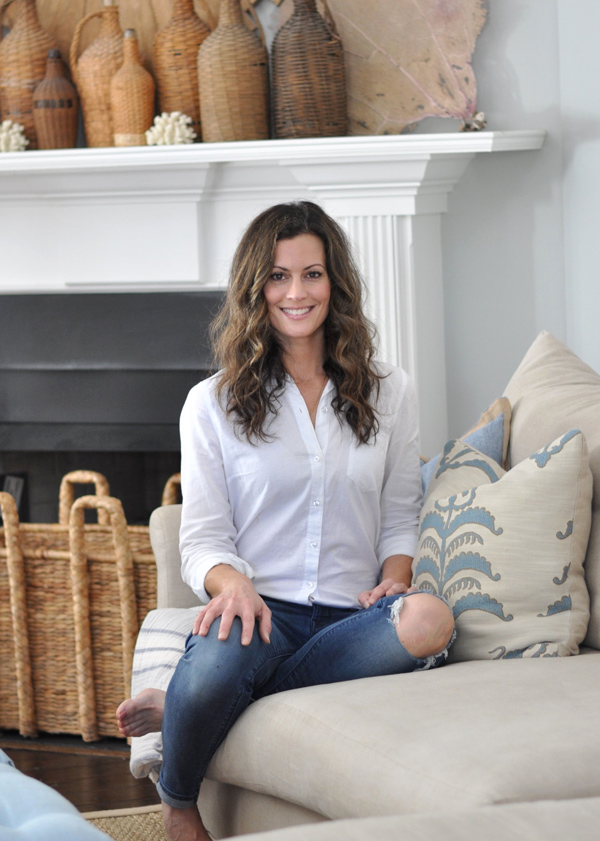 Hello and welcome to Bungalow Blue Interiors!
I'm Kelly, interior designer, stylist, hostess with the mostest and editor of my blog, where I share pics of my work, my own home, décor projects, entertaining hacks, where to find the best decorating deals and all the beautiful things that are currently inspiring me!