My super sweet hubby made me a pair of Versailles planters to flank my front door for Mother's Day this year and I absolutely LOVE how they turned out! He's made me a lot of things over the years, but these are definitely my new favorites, hands down. I finally got around to taking some pictures of them over the weekend so I could share the steps on how he made them, in case any of you were interested in making a pair of your own! There are a ton of different plans online (you can see a few I posted here) but the hubby ended up winging it for mine and they couldn't have turned out better! These bad boys are on the larger side, which is exactly what I wanted; I tend to think almost anything oversize makes for a much more dramatic impression and that's definitely what I got with these!
We got everything he needed at Lowe's – all the wood was plain old white pine, nothing fancy, because I was going to paint the planters once he built them. My planters are 33 inches high (with the finals) and 25 inches wide; here is the cut list for ours:
What you'll need:
(2) 2 inch x 2 inch x 8 foot pieces, cut to 30 inches long, for the corner pieces (4 pieces per box)
(10) 1 inch x 6 inch x 8 foot boards, cut to 27 inch pieces. We used 4 pieces per side of each box (so you'll need 16 pieces per box)
(5) 1 inch x 3 inch x 8 foot boards, cut to 22 inch pieces, for the top and bottom of each side of the box (you'll need 8 pieces per box).
One pack of 1 1/4 inch wood screws
One pack of 1 1/4 inch kreg jig screws
Kreg jig
Table saw
Drill
Decorative wood finials
Primer, paint, paint brush
To make the process a little more seamless, he cut all of the wood for each box at once:
Next, he assembled each of the sides, screwing each 27 inch board to the top and bottom pieces using an electric drill:
Using a kreg jig, he then attached the corners to each piece:
This is what each side will look like when you're done:
Next, attach each side to the other using your kreg jig; of course, I don't have a picture of this step, but you'd basically do the same as you did to attach the corner pieces to each side. It will look like this when you're done:
Once each box was done, we drilled holes in the top of each corner and attached round wooden curtain finials. I used these from Lowe's:
Next up, I gave them two coats of primer and three coats of glossy white exterior latex paint (I used Sherwin Williams Extra White), letting each coat dry completely before applying the next and that was it!
I usually have the biggest ferns I can find flanking my front door but this year it was too hot and I was way too pregnant to be gallivanting all over town looking for some, so I settled for two palms from Lowe's in each, instead. I actually think I like them just as much as the ferns! To keep them at the right height inside the boxes, my husband used some scrap wood to build a bottom inside, about a foot down from the top.
Every time I turn onto my street, I smile to myself at the impact these beauties make on our front porch. The white is so crisp against the green palms and the size is so dramatic – the exact first impression I want to make when greeting guests to my house!
Happy Hump Day, everyone!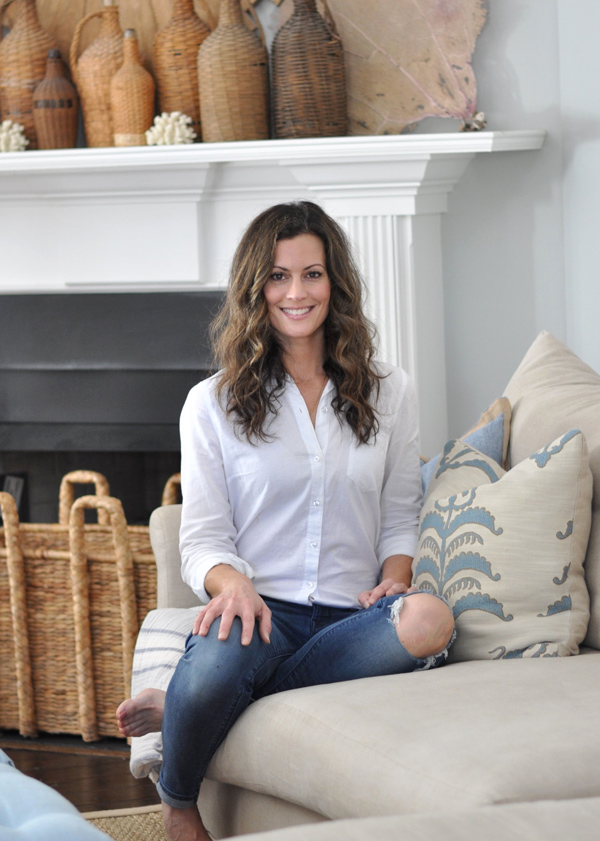 Hello and welcome to Bungalow Blue Interiors!
I'm Kelly, interior designer, stylist, hostess with the mostest and editor of my blog, where I share pics of my work, my own home, décor projects, entertaining hacks, where to find the best decorating deals and all the beautiful things that are currently inspiring me!