diy: safe, nontoxic, eco friendly way to strip furniture
I get a lot of emails about refinishing furniture and pieces that I have worked on it the past and the best advice I can give anyone is to pay the most attention to the prep work! Prepping a piece (aka stripping the finish, or sanding and scuffing it to make it paint-ready) is the most important step in the refinishing process. When it comes to stripping furniture, I've always avoided chemical strippers, instead choosing elbow grease and lots and lots of sand paper. I'm sure the chemical strippers are worth their weight in gold in terms of how quickly and efficiently they work, however, I never trusted myself with the mess it would make, not to mention the toxicity…I just don't need or want either.
HOWEVER, after recently burning through what seemed like a million sheets of 80-grit sand paper with my orbital sander on a set of four dining chairs, I thought I'd give in and try Smart Strip, a biodegradable, non toxic stripper I found at Sherwin Williams:
Everthing I needed, I already had on hand, including a cheap foam brush and a paint scraper:
Even though this stuff is biodegradable, I wore plastic gloves and laid a plastic tarp underneath…trust me, you will need both once you start scraping paint off! To start, I put a heaping amount of the stripper on the brush:
Wipe the Smart Strip right onto your piece and don't be stingy with it! The more you put on, the easier it will be to remove layers of paint and finish. Once you've applied the stripper, just wait….the container says to wait anywhere from three to 24 hours, but, it started bubbling and cracking just 30 minutes after applying. This is what it looked like:
After about an hour, I scraped away at the stripper and, believe it or not, it brought the paint and finish away with it pretty easily, right down to the original stain:
The stripper only removed down to the original stain of the wood, which was fine because I finished off the rest with my orbital sander to get down to bare wood:
Overall, I was very impressed with Smart Strip…it was relatively fast and easy and cleanup was a breeze. This stuff is great for pieces with flat surfaces – I wouldn't recommend this for pieces that have a lot of detailing. This stuff is so gooey, that using a steel brush to get in to the grooves of a piece would be a mess.
Stay tuned to see this set of four Queen Anne-style chairs' dramatic makeover!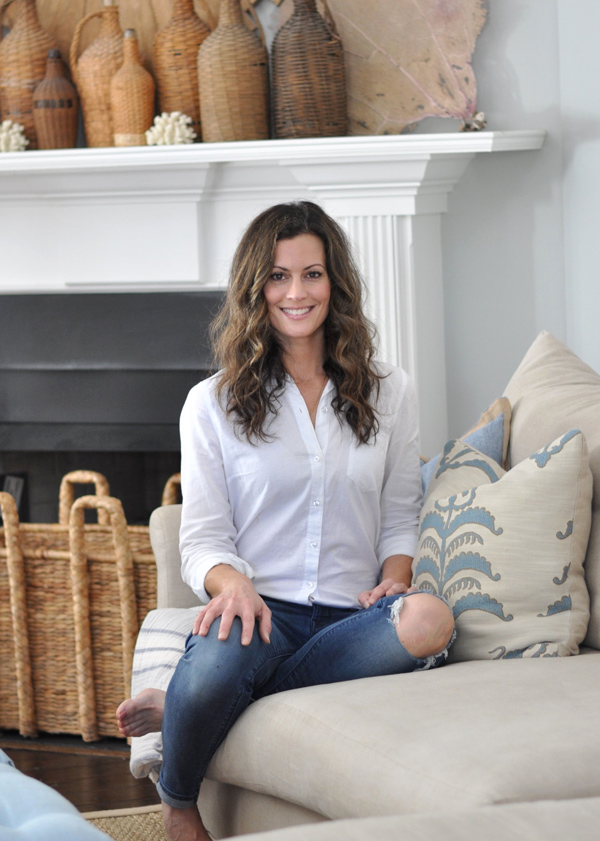 Hello and welcome to Bungalow Blue Interiors!
I'm Kelly, interior designer, stylist, hostess with the mostest and editor of my blog, where I share pics of my work, my own home, décor projects, entertaining hacks, where to find the best decorating deals and all the beautiful things that are currently inspiring me!