I'm working on a nursery for a first-time mommy-to-be, who has a small niche off her master bedroom. The room is small-10 feet by 10 feet-and so, instead of cramming a bunch of small pieces of furniture and accessories everywhere, I started by adding some visual interest to draw the eye upward and painted stripes all the way around the room. I'll admit, the first time I attempted to do this a few years ago, I was definitely intimidated, worried I wouldn't get the lines straight or that paint would get under the tape, but if you have the right tools, it's easier than you think.
All you need is a great laser level, like this one…
…and A LOT of this:
First, attach your laser level to the wall, once you've decided where you want your stripes to be. When the bubble is directly in the middle of the level, that means your line is straight:
Next, tape your first line. For mine, I taped UNDER the red line. This would be the bottom of my first stripe. You can see it in the above picture, to the left, where the tape is under the level line. Make sure the tape is attached firmly, that there are no air bubbles, otherwise paint will get under it and ruin your lines.
Next, place the level above the first line…
…get the line level, then place the bottom of your tape ABOVE the red line, like this:
Continue taping all your lines in the same way. And don't be afraid of corners! Your level will go around them, continuing a straight line for you. Mark the line with a piece of painter's tape, then place your level in the middle of the second wall, lining up the level with that piece of tape.
Once you're done, it will look like this:
Now that the hard part is over, get to painting! I used a Purdy 2 1/2 inch angled brush…
…and got to work! It took two quick and light coats:
I let it dry completely for 24 hours, then removed the painter's tape for crisp, clean lines. Here is a sneak peak of the nursery now:
Happy painting!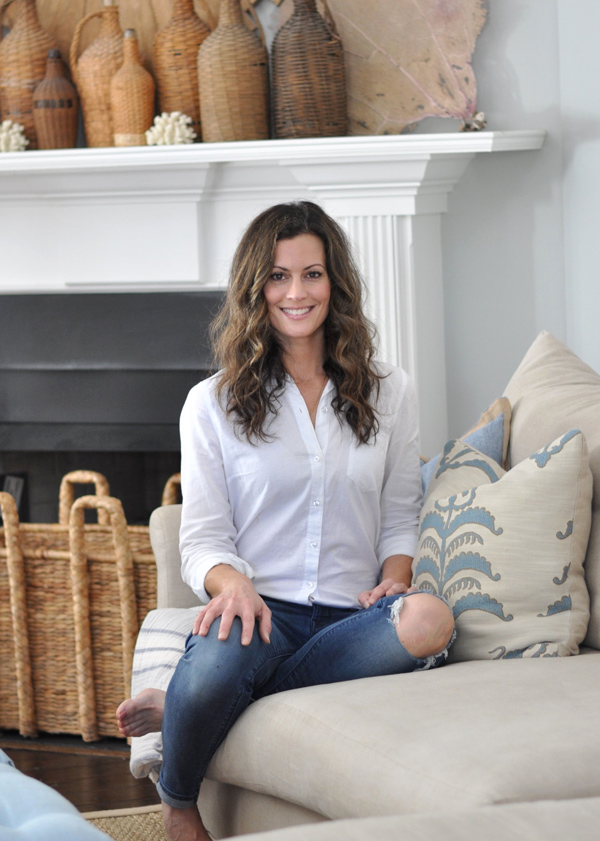 Hello and welcome to Bungalow Blue Interiors!
I'm Kelly, interior designer, stylist, hostess with the mostest and editor of my blog, where I share pics of my work, my own home, décor projects, entertaining hacks, where to find the best decorating deals and all the beautiful things that are currently inspiring me!