diy: mini pumpkin taper candle holders
Despite being more of a spring and summer girl, fall in the south is my favorite time of year to entertain. There's no pollen or mosquitos so you can actually enjoy the cooler temps and beautiful evenings dining alfresco or even just sipping a cocktail or a cup of coffee on the porch under a cozy throw blanket (my fave). Fall is also the one time of the year where I give myself carte blanche to go crazy with the slightly over-the-top tablescapes – pumpkins, bittersweet, wicker demijohns, lanterns, even foliage from my yard are some of my favorite ways to add a touch of the change in season (especially since I don't really decorate for it anywhere else in my house).
A few years ago, I made some taper candle holders out of mini pumpkins and they're one of my favorite DIY's to date! I originally posted the step-by-step tutorial here but I thought since the weather was finally feeling fall-ish right now in the south, it was the perfect time to re-post it for anyone who missed it the first time around! This is one of the quickest and easiest DIY's – the most time consuming part is waiting for the paint to dry, so if do-it-yourself projects tend to intimidate you, this is definitely an easy one to try!
What you'll need:
mini pumpkins
cordless drill
3/4 inch spade drill bit (I used this one)
spray paint
Step 1: if there are any stems on the pumpkins, remove them with wire cutters. Place your drill bit in the middle of the top of the pumpkin and, applying light pressure, drill slowly until about a half inch down into the pumpkin. DO NOT PRESS HARD ON THE DRILL – it will crack your pumpkin! Also, make sure the pumpkin is on the floor, not in your hand, when drilling:
Step 2: Using a butter knife, scrape out the insides of the pumpkin and then spray them with your spray paint.
Once dry, insert your taper candles and enjoy! SO easy!
Hope everyone is off to a great start this Monday!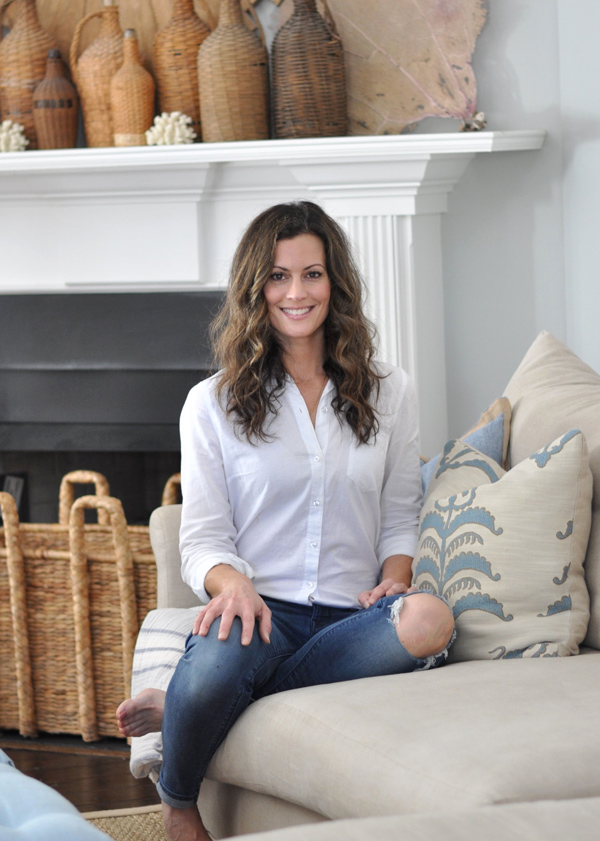 Hello and welcome to Bungalow Blue Interiors!
I'm Kelly, interior designer, stylist, hostess with the mostest and editor of my blog, where I share pics of my work, my own home, décor projects, entertaining hacks, where to find the best decorating deals and all the beautiful things that are currently inspiring me!