Taking a piece of furniture that has seen better days and transforming it into something completely different and beautiful is one of my favorite, most satisfying parts of my job. Weathered, whitewashed wood, similar to the pedestal table I refinished a while back, is a trend that doesn't seem to be going away anytime soon, and it will cost you big bucks unless you can recreate the look yourself.
One of the more popular finishes today is cerused oak, more widely known as "limed oak", like this Grand Baluster table from Restoration Hardware:
Liming works well on open-grain woods like Ash or Oak, as it is basically filling in the open, porous grain with a white (or sometimes colored) pigment. This can usually be achieved by watering down white paint, like I did for the pedestal table , however, if you try to whitewash bare oak, it can take on a pink hue (which I found out the hard way), so you have to seal it first with a water-based pre-stain wood conditioner like this one from Minwax:
Diluting white paint with water is the easiest way to make a whitewash, but Minwax also offers a pickling stain, if you're unsure of your mixing skills:
I'm always down for a challenge, so when a sweet Twitter follower, who happens to live an hour away, graciously emailed me last week, asking if I could give her oak dining table a weathered, dark gray finish, similar to this one from Jayson Home and Garden, I quickly accepted:
But first, I'm going to practice on this super heavy oak pedestal table I scored last summer for less than $100:
I slapped some black paint on it and put it in my kitchen in a hurry last year for a baby shower I was hosting and now I'm stripping it back down to bare wood. I'm going to play with a gray stain and then lime it, so keep your fingers crossed and stay tuned for a tutorial if all goes well! Happy Easter!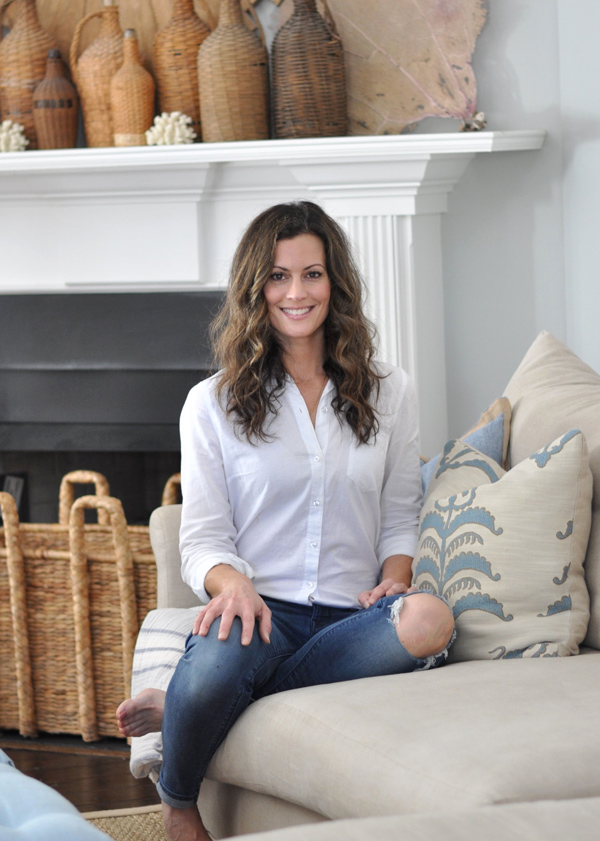 Hello and welcome to Bungalow Blue Interiors!
I'm Kelly, interior designer, stylist, hostess with the mostest and editor of my blog, where I share pics of my work, my own home, décor projects, entertaining hacks, where to find the best decorating deals and all the beautiful things that are currently inspiring me!