BUDGET-FRIENDLY PRETTIES FOR THE KITCHEN
Over the past couple months, I've been slowly clearing out closets, cabinets and pantries and getting rid of/donating quite a lot of junk that I just don't need anymore. Making space has improved my whole outlook toward my home and how I am able to function in it and it's been so therapeutic tossing things at the same time! The first place I always start is the one place I spend the most time – my kitchen. Having glass front cabinets has been helpful in keeping clutter at bay, and since I do have plates, drinking glasses and serveware front and center, I like to only invest in items that are as beautiful as they are utilitarian, since everyone is going to be able to see them as soon as they walk into my kitchen. I've kept buying to a minimum and only bought items that I use all the time – like swapping out old dish towels for the most incredible set and simple Picardie glasses that are almost indestructible (the littles have dropped mine a few times and they have yet to break, knock on wood!)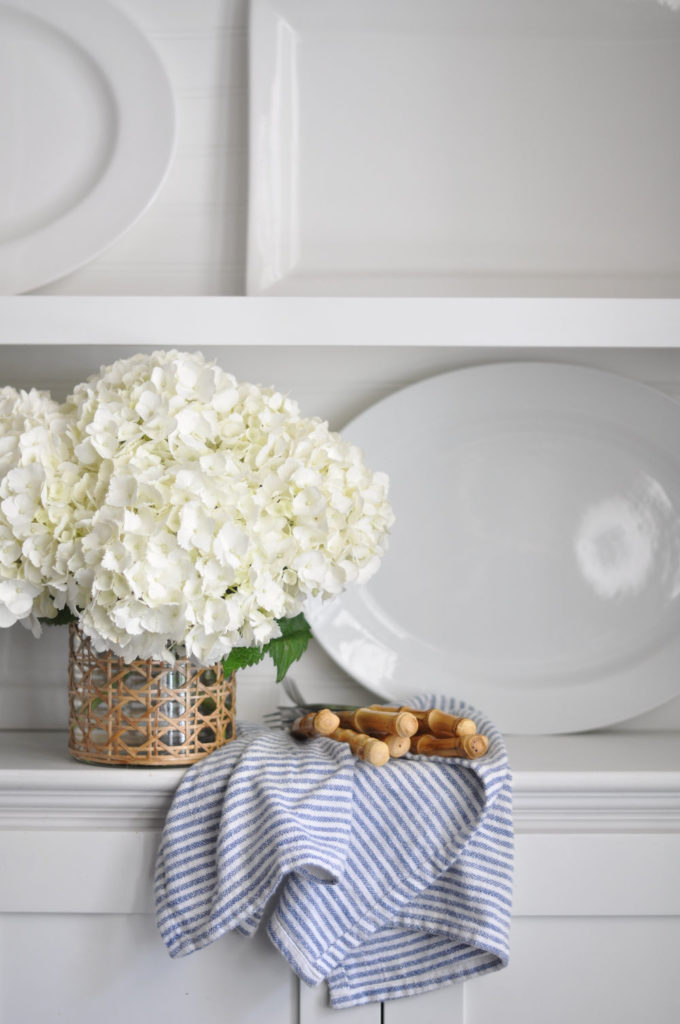 Here are a few items that are as pretty in the kitchen as they are useful; most of these are super budget-friendly and a few are splurges (hello, pepper grinder), but all of them are simple, beautiful, hard working additions to the one space we all use the most: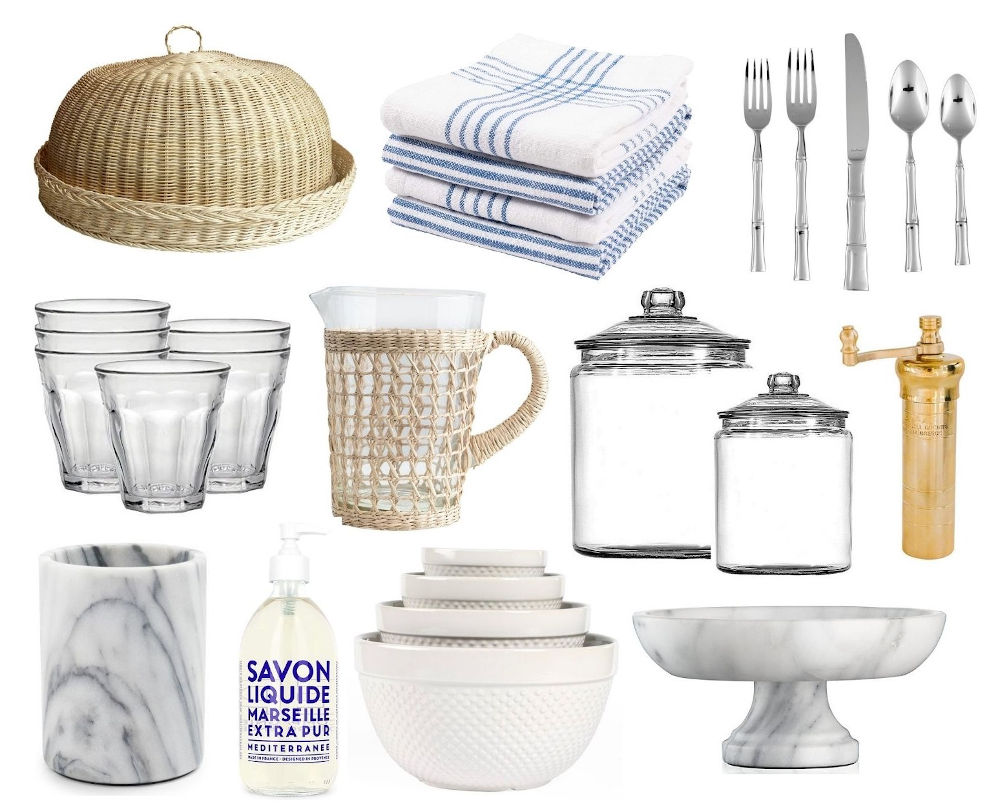 Rattan cloche / Dish towel set / Bamboo flatware / Picardie glasses / Woven pitcher / Glass canisters / Brass pepper mill / Marble wine cooler / Hand soap / Nesting bowls / Marble footed bowl
RATTAN CLOCHE + TRAY – I've included this in the last few posts because it's so beautiful and, when I first shared photos of mine, so many of you asked where I found it (it was an antique store find) that I've been on the lookout since and share every time I find one! This looks beautiful on a dinner table (mine disguises crayons and art supplies) and is a must-have for keeping food safe from bugs when dining outdoors!
DISH TOWELS – I never thought the day would come when I get overly excited over a set of dish towels, but these are AMAZING!!! They're so absorbent, they don't lose their shape after washing (they look and feel like linen but are really cotton) and come in so many colors! The best part is that they're only $15 for a set of four!
BAMBOO FLATWARE – I love my bamboo flatware and use it all the time, but this is a beautiful set to invest in for those who love the coastal feel but don't want to have to hand wash theirs every time you use them!
PICARDIE GLASSWARE – These are the first glass glasses I've felt comfortable letting my littles use; I love their silhouette and the fact that they come in so many sizes, but it's their durability that won me over with these bad boys. The price is too good, too!
WOVEN PITCHER – This is included in the roundup solely for the fact that it's as pretty sitting on a countertop or shelf as it is holding flowers are a pitcher of margaritas!
TWO-GALLON CANISTERS – I bought a pair of these years ago after seeing the same ones in Ina's kitchen; I love their simplicity, as well as the fact that I can find them anywhere (I found mine at Walmart!) and the price can't be beat. If they're chic enough for Ina, then we should probably all have some, right??
BRASS PEPPER MILL – This one is a bit of a splurge but it's SO worth it! And bonus points because it looks so gorgeous on a tray with oils!
MARBLE WINE HOLDER – My friend Jennifer from Beauty Love and Grub sent me one of these marble wine coolers and it's one of my favorite things in my kitchen because it's so versatile! I've used mine for wine, as a vessel for a handful of blooms and also as a utensil holder. It's also a great hostess gift!
SAVON DE MARSEILLE – Another non-budget-friendly item, but hear me out on this one….when you run out of soap, in a pinch, you can add inexpensive soap refill and no one will ever know, lol! I'll never forget staging a client's summer house at the beach for photos years ago. She had the most beautiful glass Savon de Marseille soap bottles but they were all almost empty, so I ran to the grocery store, found some clear hand soap refill and filled them up for the pictures. Years later, the client emailed me out of the blue and said she still refills her favorite soap bottles the same way!
BEADED NESTING BOWLS – Such a great price for a porcelain set and I love the beading!
MARBLE FOOTED BOWL – A beautiful way to elevate your fruit bowl, a chic centerpiece when filled with citrus and looks amazing on a bar setup with a pile of limes!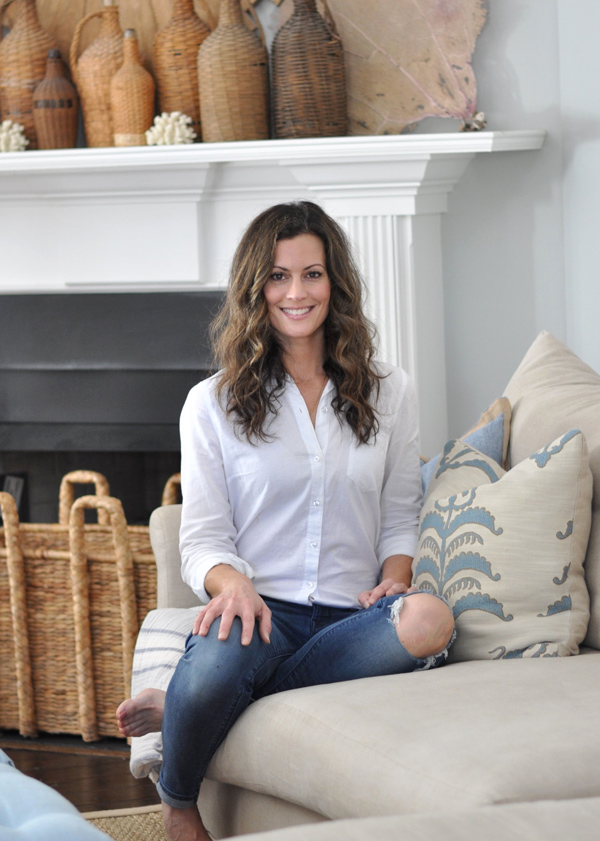 Hello and welcome to Bungalow Blue Interiors!
I'm Kelly, interior designer, stylist, hostess with the mostest and editor of my blog, where I share pics of my work, my own home, décor projects, entertaining hacks, where to find the best decorating deals and all the beautiful things that are currently inspiring me!