book storage solutions for the kiddos
Surface space is something we've always been short on in Lydia's nursery and with her ever-growing collection of books, I've been trying to find a way to store them all where they're easily accessible and not ripping the covers. Lately, we've been using baskets to corral them because we don't have room for a bookshelf until we move some of her furniture to bear cub's nursery. I'm chomping at the bit to get her proper storage for her books and all the pretty, girly things to display that I've been hoarding since I was pregnant with her, so until we can get a bookshelf in here, I've been on the hunt for great ways to store children's books. Here are a few I'm loving; most of these are great space savers for those of us that don't have space for extra furniture or a playroom!
GALLERY LEDGE I love the simple, clean look of ledges and how positioning the books facing out adds a pop of color to a room and especially how it makes it much easier to choose books to read! Target, Ikea, even Walmart all offer inexpensive picture ledges that can double for children's books:
Amber Interiors
Lonny
PLASTIC GREETING CARD CASES These blend right into the wall and let the books really take center stage. Plus, they're super inexpensive (you can find them for next to nothing at the Container Store and Staples!)
Ibie Falcusan via Design Sponge
READING NOOK If only we had room in our house for a little book nook – I'd cozy it up with curtains, a daybed and the fluffiest pillows I could find and Lydia and I would hole up all day long! Even if you don't have space for a built-in, you can carve out a little corner of the nursery or living room – hang some art, throw down a cozy rug and add a basket for books!
via
via
BOOKSHELVES We may not have room for book cases right now, but they definitely are my favorite option for kid spaces – I love to mix books with keepsakes, framed family photos and even small toys. It's a great way to add interest, color and personality while at the same time keeping everything contained in one space and not scattered all over the room:
designstiles via SMP
Erin Gates
FUN AND UNIQUE OBJECTS. The sky's the limit when you don't have room for any additional furniture or book nooks – baskets, a wagon, a vintage baby bassinet, a wooden boat are not only adorable, but super handy for grabbing a treasured book and curling up with your little:
The Little Umbrella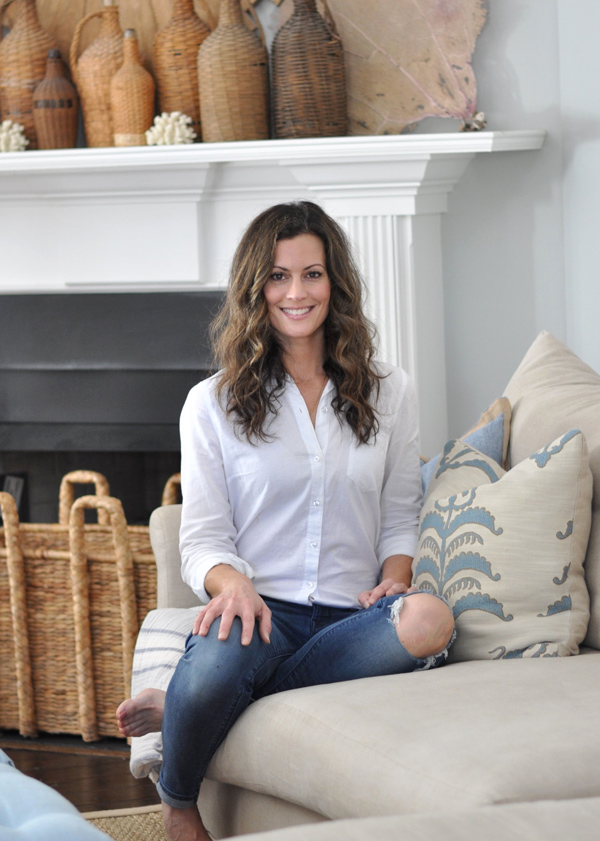 Hello and welcome to Bungalow Blue Interiors!
I'm Kelly, interior designer, stylist, hostess with the mostest and editor of my blog, where I share pics of my work, my own home, décor projects, entertaining hacks, where to find the best decorating deals and all the beautiful things that are currently inspiring me!