BEAUTIFUL COFFEE TABLE BOOKS FOR MOM
Mother's Day is right around the corner and I can't think of someone more deserving of a little something nice than all the momma's I know! A guilty pleasure for me and a lot of my friends is a beautiful coffee table book; it makes the perfect gift because it's something I know many of my girlfriends won't jump to splurge on for themselves.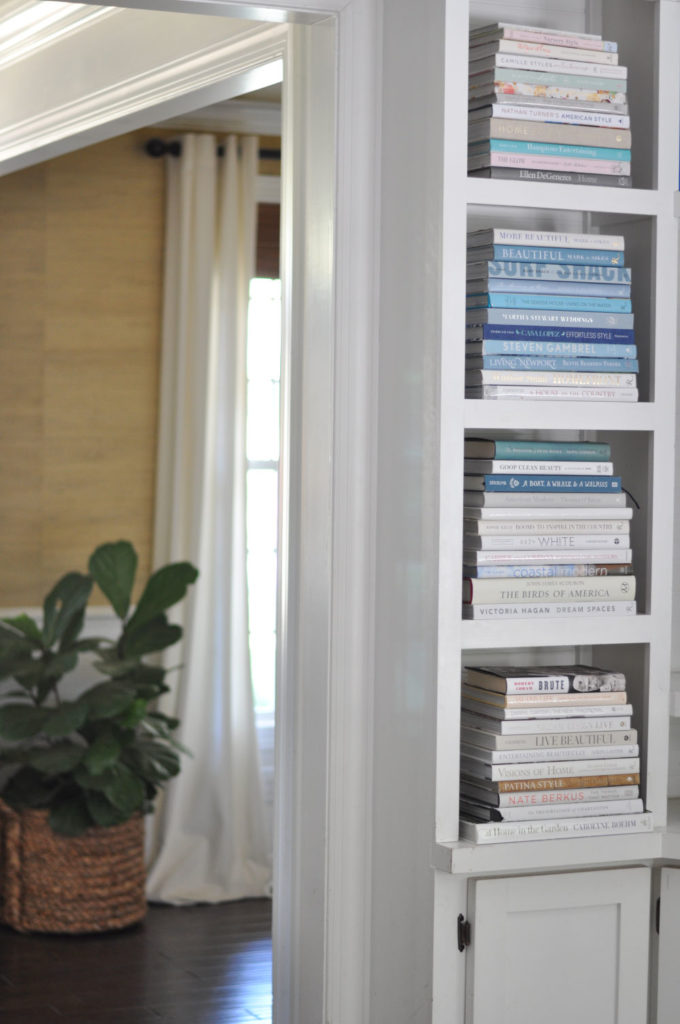 There are a bevy of beautiful new books out lately that would definitely fit the bill, but there are also a few of my personal, older favorites that I'm including in my roundup because they're just so pretty and inspiring! Here are my picks: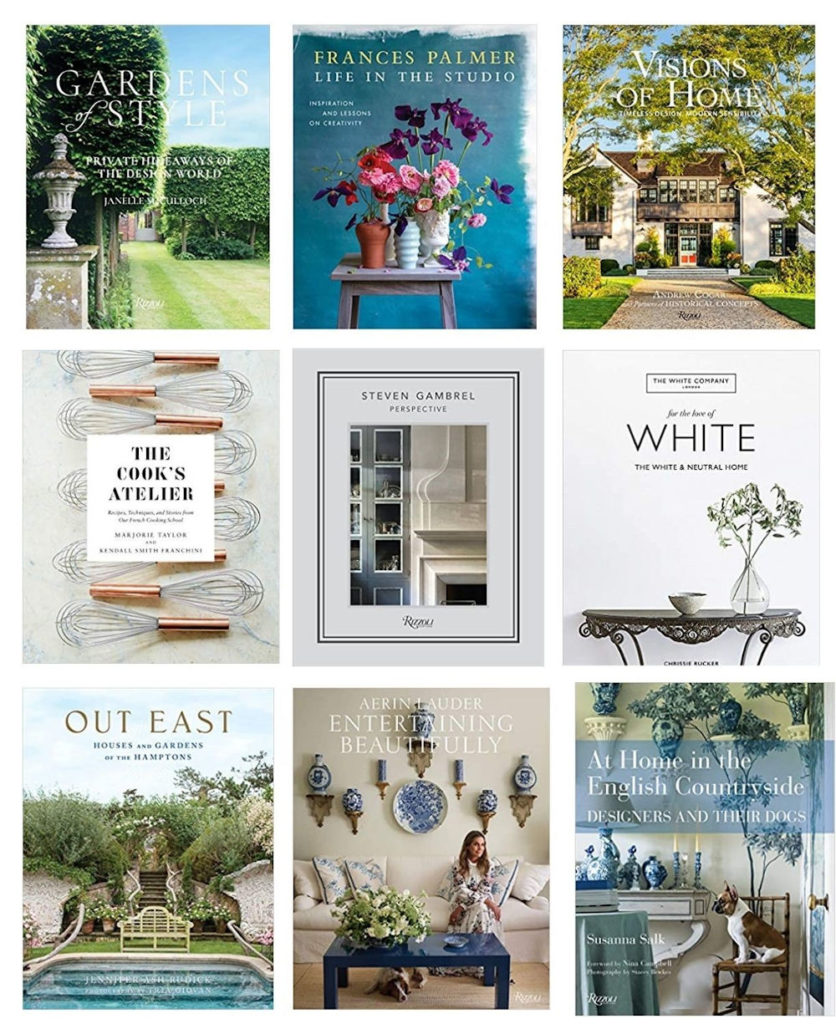 Gardens of Style – one of the most beautiful landscape design and garden books, author Janelle McCullouch gives a peek inside the personal gardens of interior and fashion designers in glorious detail. It's a true feast for the eyes, and one of the most dog-eared books I own; the photography is just incredible – I can't recommend this book enough!
Frances Palmer Life in the Studio – the perfect tome for any type of creative, Life in the Studio includes gorgeous photographs of Palmer's pottery, an in-depth look at her process and what inspires her, as well as her incredible dahlia garden, steps for arranging flowers, delectable recipes and photography tips, it's a favorite manual for living a creative life.
Visions of Home – I anxiously awaited the release of architect Andrew Cogar's first tome and it did not disappoint! It gives in-depth views into some of the firm's most high profile projects, three of which by design genius Steven Gambrel. Of course, the photographs are absolutely breathtaking, but I also loved the notes on the process followed for each of the projects.
The Cook's Atelier – not a coffee table book, per se, but it's truly one of the most beautiful cookbooks I've ever come across and I can't think of anyone who wouldn't love flipping through this one for inspiration or just to escape for a couple hours to life in Beaune, France! I dedicated an entire post to it here, if you want to sneak a peek at some of the photos!
Steven Gambrel Perspective – Hands down, my very favorite design book. EVER. Gambrel is a design genius and one of the most acclaimed in his field, but what I love most about his work as well as the projects included in this book is his dedication to maintaining the integrity of the architecture and design of each one of the projects he has worked on. His attention to detail is unparalleled and he brings a fresh, modern perspective to historic homes. A truly beautiful book, from cover to cover!
The White Home: Inspirational Ideas for Calming Spaces – Author and co-founder of the White Company, Chrissie Rucker shares in glorious detail how to layer natural materials like wood, marble, brass, seagrass and greenery to create an elegant, sophisticated space that doesn't look sterile or fall flat (as many all-white interiors sometimes do!) A must-have for the friend or sister who loves all-white interiors!
Out East – For anyone inspired by the homes and gardens of the Hamptons, this design book takes a tour through 25 homes, pool houses and surf shacks, capturing extraordinary gardens and landscaping, verandas, poolside pavilions, farmhouses and converted barns in glorious detail.
Entertaining Beautifully – It's no secret that I love going all out with my table settings, so I personally found this book to be especially inspiring with tips for outdoor entertaining in the spring and summer and creative ideas for setting a beautiful table in fall and winter, as well. A must-have for the perpetual entertainer or the friend, sister or momma who just loves to set a pretty table!
At Home in the English Countryside; Designers and their Dogs – An in-depth look at the country homes of some of the most sought-after British designers and their pooches, this is one of my favorite design books, as much for the gorgeous British interiors, as well as how much their pups play a role in their lives.
Hope you're off to a great start this week!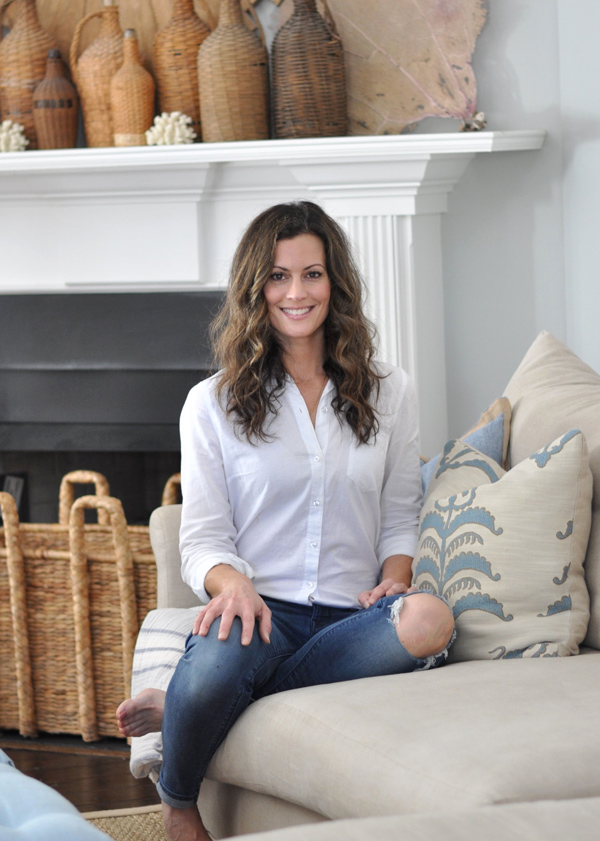 Hello and welcome to Bungalow Blue Interiors!
I'm Kelly, interior designer, stylist, hostess with the mostest and editor of my blog, where I share pics of my work, my own home, décor projects, entertaining hacks, where to find the best decorating deals and all the beautiful things that are currently inspiring me!