5 tips for designing a smart nursery
Ever since posting pics of Lydia's nursery back in November, I've gotten a ton of emails asking about storage ideas, how I keep clutter at bay, decorating tips, my nursery must-haves, etc. I thought I'd try to cover all of them here in one post and revisit one of my favorite nurseries I designed two years ago as an example. Hard to believe it's been that long since I worked on this space and that the little man it was designed for is already transitioning to a big boy room, but just another reason why smart design is helpful for nurseries!
Forgo the themes. Instead of a theme, I prefer to create a feel or mood: light and bright, whimsical, fun and fresh, super girly, etc. The thing with themes is that, when you buy everything pertaining to said theme, you end up spending a small fortune a few short years down the road when your little has outgrown his/her nursery and is in need of a big girl/boy space. By sticking to classics for your basics (think neutral paint colors, linen curtain panels and bamboo Roman blinds) you can then add color, pattern and whimsy with stuffed toys, throw pillows, bedding, books and art!
(A longhorn is a dramatic focal point, eliminating the need for any other art on this side of the room)
Keep clutter to a minimum. It's so easy to overdo it on the decorative accessories in a nursery, which can make the room look like a hot cluttered mess. Since this is the one room where a calm, cozy feel is a must, I like to advise clients to instead spend a little more on a soft, cozy sheepskin rug or beautiful, lined linen curtain panels. The result is so much more dramatic and sophisticated!
(Ben Moore Revere Petwer on the walls, blue/gray linen curtains and a soft rug lend a cozy, luxurious feel)
Invest in smart pieces that will stand the test of time. When we had Lydia, I used an antique oak buffet as a changing table – for one thing, it's a gorgeous piece that she will have forever and also, it's higher than normal changing tables which was super helpful for us (I'm 5'10 and Daddy is 6'4). I tend to think of changing tables as a waste of money because babies grow out of them so quickly and then you need to shell out more money for another piece. A beautiful dresser can accomplish the same feat with a changing pad on top. Same thing goes for gliders. Those things are expensive! A comfy chair and ottoman work, too!
(A buffet became a beautiful makeshift changing table with a fresh coat of paint and some new hardware)
Smart storage is a MUST. Baskets, trays and decorative boxes are beautiful ways to corral everyday necessities and keep your sanity in tact when you're searching for diaper cream or a lovey in the middle of the night!
(We maximized vertical space by hanging painted wire baskets on the walls and using a reclaimed barn wood ladder for receiving blankets)
Add a gallery wall. A gallery wall is one of my favorite ways to add personality, color and interest to any space and that goes for nurseries, too! The best part is everything is grouped together in one place, as opposed to a cluttered feel of having art splattered throughout the room AND it's super easy to swap pictures and art out for new finds as your littles get older.
(Handpicked art, hand sewn ornaments from Mexico and baby pics of Mom and Dad add color, personality and a ton of interest)
Happy Thursday!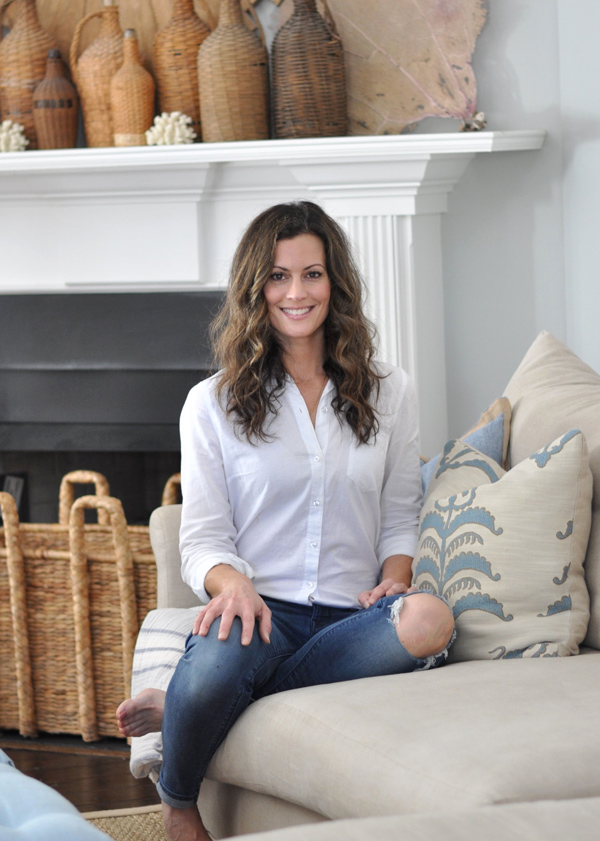 Hello and welcome to Bungalow Blue Interiors!
I'm Kelly, interior designer, stylist, hostess with the mostest and editor of my blog, where I share pics of my work, my own home, décor projects, entertaining hacks, where to find the best decorating deals and all the beautiful things that are currently inspiring me!