4 baby/toddler purchases I'm so glad we made
If you have children, I don't have to tell you that babies nowadays require SO. MUCH. STUFF. I chronicled the items that were my saving grace the first three months of motherhood in a post here and there have been many, many purchases since that I've loved, but the things that have made the biggest impact ended up not being items I registered for. Here are a few items I couldn't have lived without and that still make life easier, not to mention prettier, which, let's be honest, is an added benefit to anyone with littles who have taken over every inch of space in their house!
1. Daybed. While technically not a purchase (Daddy made it for her), I never could have made it through the first year of motherhood without it. Sleep did not come easy the first twelve months for me and baby girl; I've blogged before about transitioning her from our room to her crib and then how she woke up every 1 1/2 – 2 hours from the time she was 6 months old until she hit 9 months. Having a bed in her nursery was my saving grace because I could get her used to her crib while being right there with her and then again when she woke up 500 times a night. Although it's been a long time since I've slept in there with her, the daybed is still perfect for reading books and talking and playing with our stuffed animals when we're winding down at night. And it will be perfect for when she outgrows her crib! (See plans for our bed here).
2. Stokke Tripp Trapp high chair. It took me FOREVER to make a decision on a high chair; I wanted something that would blend in with my decor, that would also be easy to clean and that I could stow away easily if need be. I finally decided on the Stokke Tripp Trapp and am so glad I did! It's got a low profile so it doesn't stick out like a sore thumb and is super easy to clean. You can buy a tray attachment, but I really like being able to pull Lydia right up to the table with us when we are eating. I highly, highly recommend!
3. Custom crib bedding. After searching high and low for the perfect crib bumper and skirt, I knew custom was going to be the way to go. It turned out to be one of my favorite parts of the nursery; because I had it made, the bumper was way more fuller and plush than any I would have been able to buy and I had my seamstress do the skirt in three separate pieces (didn't need a fourth since the crib would be up against the wall) and then add ties to each piece so that I could adjust the skirt as I moved the mattress down. All in all, it ended up costing no more to have it made than to buy an already made one, but the effect in the room could not have been matched, otherwise!
4. Teepee. Another gift, my dad definitely got his money's worth the first week we had this one from Land of Nod! Its size is perfect for moving around easily – we've set it up in her nursery, the living room and even outside by the pool – and the bold black and white stripes fit right in in my neutral decor! What's more is that Lydia is as excited to play and read in it now as she was when we got it for Christmas.
What are some baby or toddler purchases you couldn't have done without?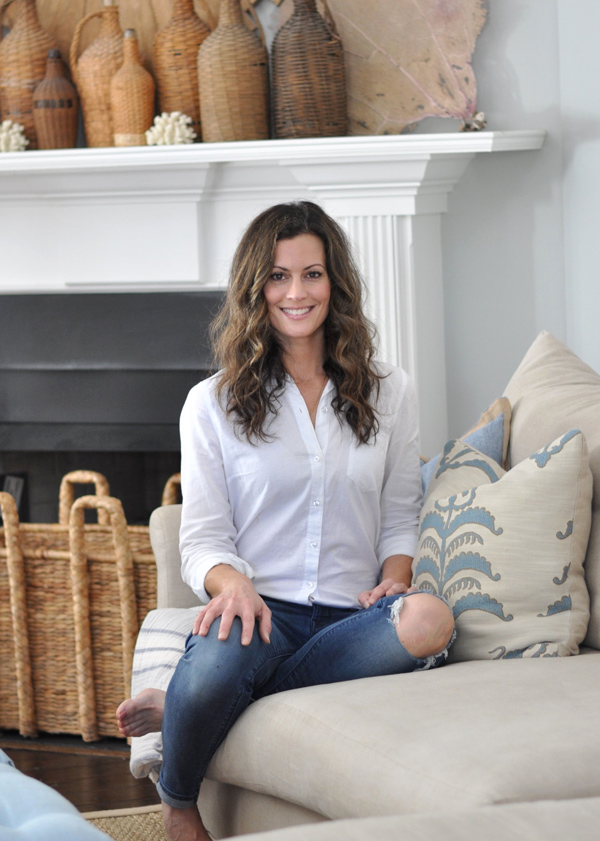 Hello and welcome to Bungalow Blue Interiors!
I'm Kelly, interior designer, stylist, hostess with the mostest and editor of my blog, where I share pics of my work, my own home, décor projects, entertaining hacks, where to find the best decorating deals and all the beautiful things that are currently inspiring me!