I know I sound like a broken record, but this pregnancy is flying by at the speed of light! Last weekend, I hit 34 weeks and have officially been forced to slow it down a notch. I've been going non-stop, as though a baby isn't going to be making its way out of my body in the next six weeks or so and even though there is so much yet to be done before my little bear makes his debut, I'm thankful for the change of pace. Lately, I've been spending my days in the pool, watching movies and making popsicles with my little miss. This time with just her is so bittersweet; I'm so excited to meet my little guy but I'm sad that the days of just my girl and I are numbered, so I'm soaking up every single minute! Here are a few other things that have been making this stage of pregnancy a little more bearable lately:
I started showing a lot earlier this time around than I did with Lydia, so my plan of making it through the summer in maxi skirts and the few tanks I wore when pregnant last time went right out the window. I am not a big fan of maternity clothing and personally hate to spend money on pieces that I'll be wearing for such a short period of time, but this bump is no joke, so a few weeks ago, I broke down and bought a few pieces to last me through the next month or so. This maternity maxi tank dress from Old Navy is so comfortable, so soft and so flattering; it can be dressed up or down and is super lightweight. My only complaint is that it only comes in black and charcoal – I wish it was available in more colors!
The heat and humidity has been making me nauseous, even though it seems like all I do all day is drink my weight in water and run back and forth to the bathroom to pee. A nutritionist friend recommended trying this Ultima Replenisher Electrolyte Powder and it has been a GODSEND! It's sugar free and all natural and completely got rid of my nausea!
This Sally Hansen Airbrush Leg spray is a new favorite, too. It's so much easier to apply than using a mitt and foam like I've been doing forever, it gives great color and comes off easily with soap and water.
I tried this Jason Gentle Basics Facial Cleanser on a whim a few weeks ago after reading that it's free of chemical-laden ingredients that are present in so many other cleansers. It's super gentle and the price can't be beat!
I'm all about bright, bold, coral/red nail colors lately (they look especially amazing with those fake tanned stems!) This summer I've been exclusively wearing Essie's Clambake.
These all natural tropical papaya pills are still my go-to for indigestion, which thankfully doesn't happen that often anymore, but it's nice to have them handy when I need them.
What are some must-haves that have helped you in the last trimester?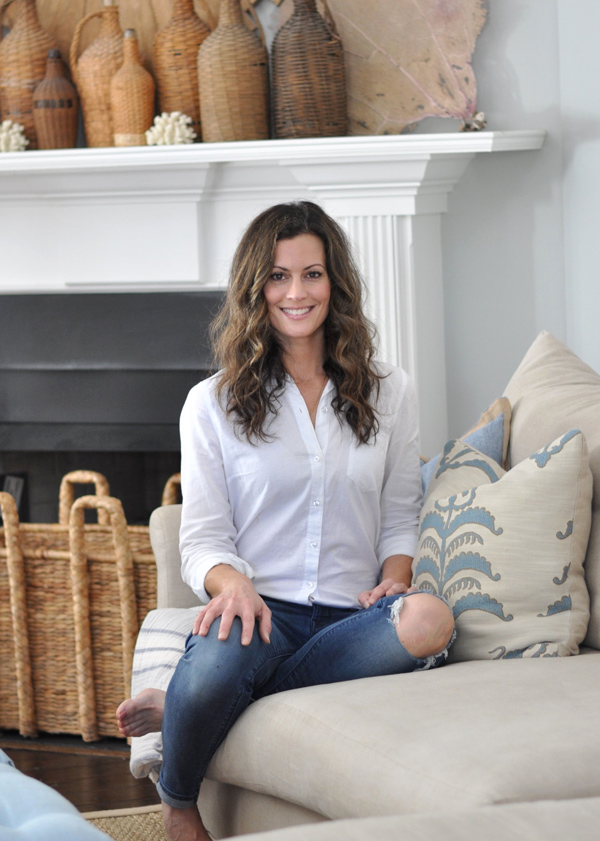 Hello and welcome to Bungalow Blue Interiors!
I'm Kelly, interior designer, stylist, hostess with the mostest and editor of my blog, where I share pics of my work, my own home, décor projects, entertaining hacks, where to find the best decorating deals and all the beautiful things that are currently inspiring me!