25 favorite decorative accessories for less than $50
I skipped out on posting a wish list this week, so I thought I'd make it up by posting a bevy of beautiful, budget-friendly home accessories for less than $50, instead! While there are a few things I am totally willing to spend a little more money on, decorative accessories are not one of them. I'd much rather invest in some custom window treatments, beautiful lighting or a fabulous rug, and since I'm always rearranging most of my surface areas, it is pointless for me to drop a lot of dough on something that may end up in the closet until I find another space for it. With that being said, there are some things you just can't get out of your head (I don't need another woven demijohn, but I'll buy one if I see it!) and if you love it and can't stop thinking about it, you should TOTALLY buy it!
Books, ginger jars, small mirrors, faux coral, oversize clam shells, rosemary topiary and lots of blue and white pieces and brass objects are some of my favorite items to accessorize with. Think fresh flowers in a silver mint julep cup or a fishing float on top of a stack of books. Nothing here will break the piggy bank because everything costs $50 or less and many of the items are on sale, too!
1. Blue and white ginger jar 2. Faux coral 3. Brass anchor 4. Rosemary topiary
5. Honeycomb vase 6. Gold ceramic urchin 7. Clam shell 8. Tortoise ice bucket
9. Mint julep cup 10. Book of Natural Curiosities 11. Cable knit throw pillow 12. Fishing float
13. Captain's mirror 14. Large gold wishbone 15. Blue and white ginger jar
16. Large glass + rope hurricane 17. Set of 2 glass sputnik orbs 18. Les Pointelles Print
19. Nest Beach candle 20. Cable knit throw 21. Polished nickel sconce 22. Black glass vase
23. Mercury glass votives 24. Large blue and white bowl 25. Blue and white tray
What are some of your favorite budget-friendly decorative finds?
I'm always on the hunt, I'd love to know!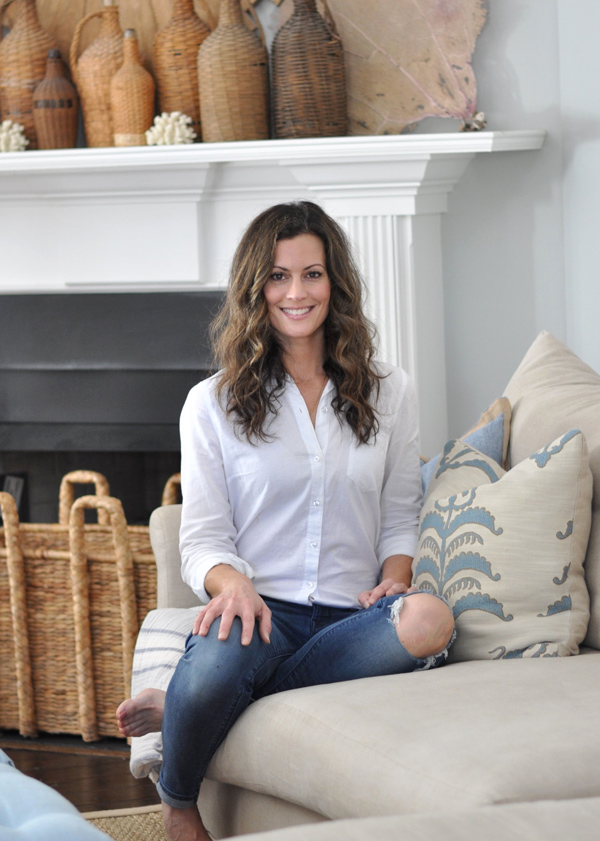 Hello and welcome to Bungalow Blue Interiors!
I'm Kelly, interior designer, stylist, hostess with the mostest and editor of my blog, where I share pics of my work, my own home, décor projects, entertaining hacks, where to find the best decorating deals and all the beautiful things that are currently inspiring me!