10 beauty, skin + hair picks I can't live without
I am the FARTHEST thing from a beauty expert, but I have always been so thankful for bloggers who are willing to share products that work for them, that I thought today I would share my top ten beauty, skin and hair picks that are worth their weight in gold for me lately!
My first three picks cater to my curly mane. For me, getting rid of frizz and defining my curls when the weather gets too hot and humid to straighten it starts with my shampoo and conditioner. Since Redken got rid of their Fresh Curls line, I've been using their Curvaceous shampoo and conditioner and it's helping A LOT:
If you have naturally curly hair, you can probably relate to needing the most help de-frizzing and defining the curls around the crown of your head. Since I bought a 3/4 inch barrel curling iron, my curls have never looked lovelier and getting ready has never been easier! I wrap a one or two inch piece around the barrel, away from my head, hold for ten seconds and voila! If I curl my whole head, I can go days without having to wash or style and after a day or two, it looks like beach hair!
Multi-tasking products are my favorite and Moroccan oil is one of my favorites. I use a little in my hair before blow drying straight and it's a dream for wearing my hair curly (especially when I don't have time to use the curling iron):
I have spent a small fortune over the last decade on self tanners, so when I picked up a bottle of Bare Escentual's Faux Tan Body, I didn't have very high expectations. Let me tell you…this stuff is AMAZING! It goes on super dark so you can see where you put it (or where you need to rub in some more), it doesn't smell and it hasn't stained clothes or sheets (yet). This would look amazing on any skin tone, but especially if you have olive skin like me – the closest thing to a real tan!
A few months back, I was looking for an alpha hydroxy facial cleanser and ended up getting persuaded into trying an entire line by Dermalogica. I haven't looked back since. As I've gotten older and my skin has changed, I am more willing to spend $$$ on products that make my combination skin feel and look amazing and this line does just that. I use their alpha hydroxy cleanser to remove everything; their skin prep scrub to remove dull skin layers and anything the cleanser missed (this stuff makes you GLOW!) and then a few sprays of their toner to help my skin absorb my moisturizer:
My day moisturizer has to have spf 30 and Aveeno's ulta calming cream is the only one I've tried that doesn't make you look greasy or white like a ghost:
I don't wear a lot of makeup, but this matte bronzer is a staple in my makeup bag year round. It's super pigmented, so you can use as much or as little as you want, it's great for contouring and it really makes you look fresh off the beach:
Between work, stripping and refinishing furniture and yardwork and gardening, my hands (and nails especially) take a beating, so if I do paint them, it's super light so you can't see as bad when they chip – I love Essie's Mademoiselle. For my toes, it's another story. I've been wearing Essie's California Coral constantly lately – the perfect combination of pik, peach and coral, and it looks fabulous with (fake) tanned feet!
What are your can't-live-without products?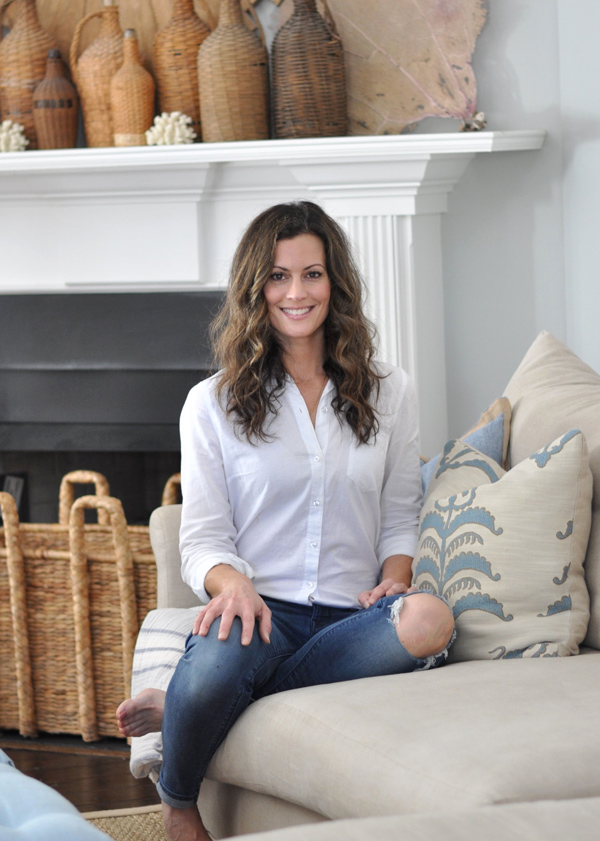 Hello and welcome to Bungalow Blue Interiors!
I'm Kelly, interior designer, stylist, hostess with the mostest and editor of my blog, where I share pics of my work, my own home, décor projects, entertaining hacks, where to find the best decorating deals and all the beautiful things that are currently inspiring me!